---
---
Take the guesswork out of ordering your Old Man Emu customized suspension system by ordering this complete kit with a single part number in a single box. This complete Old Man Emu suspension kit is engineered to improve ride and handling while providing approximately 4 inches of suspension lift to a stock Jeep® Wrangler JK. The kit comes complete with all the necessary installation parts including coil springs, steering stabilizer and the new Nitro Sport Shocks.
Springs:
The 4-inch lift was achieved by linear rate springs using X5Khigh grade steel tuned to provide compliant ride on the road while maintaining off-road performance. Trim packers have been included to assist in fine tuning ride height that may be caused by various accessory fitments.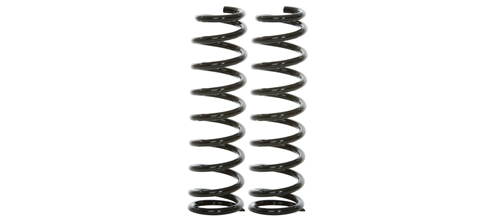 Shock Absorbers:
A new front Nitrocharger sport shock (60066M) was developed which allows 4" of down travel at the 4 inch lift. Careful consideration was given to maximize the down travel but also to ensure the front drive shaftdoesn't bind and no need for a costly replacement driveshaft (Ref Note page 5). Both front and rear NitrochargerSport shocks have vehicle specific valving tuned for optimal blend of ride control and comfort. Shock lengths have been optimized for maximum down travel while retaining factory drive shafts, brake lines and shock mounts.
Adjustable Forged Track Bar (Panhard Rod):
To centre and fine tune the location of the front axle, OldMan Emu has developed an adjustable forged track bar as a replacement to the original. A Hi grade 4140 forged steel adjustable track bar was chosen for its superior strength, durability and freedom to optimize the design. Note: Track bar bushings come pre-installed (not shown in photograph).
Track Bar (Panhard Rod) Relocation Kit:
A rear Track Bar relocation bracket was developed to address the positioning of the rear track bar. This relocation bracket not only centres the axle but also raises the rear roll centre to provide positive rear stability. Old Man Emu engineers have used Design SolidModelling and FEA to ensure strength and durability.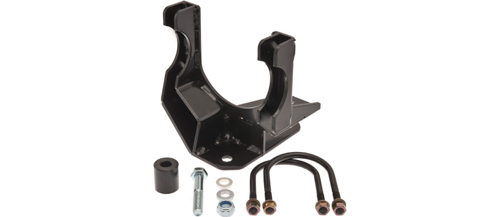 Bump Stop Spacer Kit:
A bump stop spacer kit is used to ensure a larger diameter tire is kept off the bodywork and optimizes shock extended and compressed lengths to allow maximum compression and rebound travel.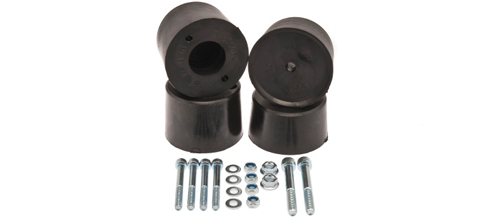 Caster Correction & Driveline Kit:
To achieve a 4 to 5 degree caster correction it only requires 7mmlonger arms or a bracket adjustment. For this small shift, Old Man Emu has developed an offset washer which is the most cost effective solution. The offset washer is machined steel, fixed position, rectangular in shape and uses factory control arms and provides a reliable, solid solution to return the factory caster angle. A spacer washer has been provided to create a clearance between the autocross \nmember and driveshaft at full droop. The use of this spacer allows maximum travel with the front factory driveshaft.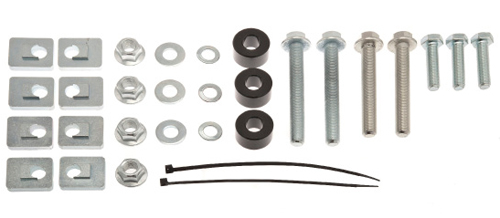 Sway Bar Disconnect Kit:
New longer front and rear sway bar links have been developed to correct sway bar alignment due to increased lift. The rear link is the factory style with two ball joints. The front link has an upper ball joint and the lower has a disconnect function using a greasable pin.
Steering Damping:
The steering damper has been specifically tuned for the Jeep JK to address front end wobbles initiated by anything from worn ball joints to out of balance large diameter tires.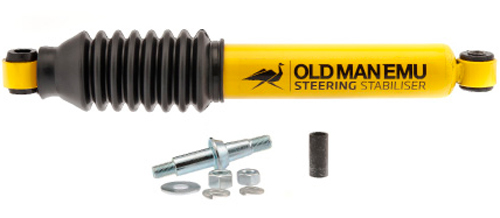 Steering Damper Relocation Bracket:
For all LHD Jeep Wrangler JK models, a steering stabilizer fit kit has been developed to relocate the stabilizer above the tie rod. By repositioning the stabilizer, it is less vulnerable to damage as its no longer the lowest part of the front suspension.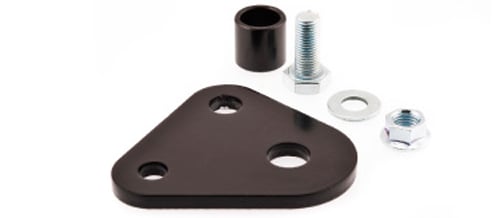 Brake Line Relocation Kit:
Brake line relocation brackets have been developed to reroute factory brake lines to work with this kits' extended shock lengths. The relocation bracket provides a cost-effective, fitter friendly solution and no brake bleeding is required. A handbrake relocation bracket lowers the brake line mounting position to relieve stress on brake lines resulting from the higher ride height.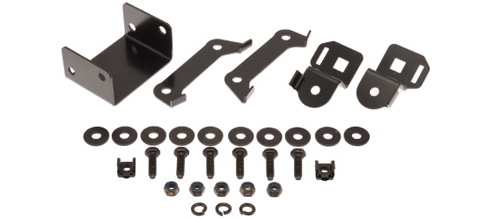 PARTS INCLUDED
Front and Rear Coil Springs
Front and Rear Coil Spacers
Adjustable Front Track Bar
Caster Kit
Driveline Kit
Rear Track Bar Bracket
Front and Rear Bump Stops
Front Sway Bar Disconnect Kit
Rear Sway Bar Links
Brake Line Relocation Brackets
Steering Stabilizer
Nitro Sport Shocks
---